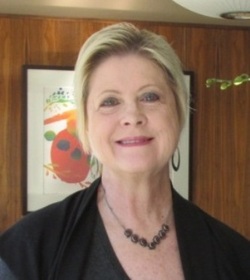 Hi! I'm Kate Thornton
I write mysteries, science fiction, and short stories.
Please check my
AMAZON AUTHOR PAGE
for short stories for only .99 cents!
Click on my
Amazon Author Page
to see the works illustrated at the top of this page - and more! - all available in Kindle format or for any device with a Kindle reader app. Click
here
for the free Reader for PC and
here
for the free Reader for MAC.
---
CURRENT NEWS


My short story, "Working in the Suburbs" has just been chosen for inclusion in a Finnish textbook for 8th graders. Originally published in Juri Nummelin's legendary crime fiction magazine Assa, (Ace) it will now be reprinted for the Finnish School System to use in teaching writing and expression.


I am still working on a 3 book series featuring a new character, Toni Carey. Smart and sassy, the Counterintelligence officer from Ft Huachuca seems to find men and murder in the Tucson desert.

I am also currently working on a romantic suspense series featuring Kitty Morse and her little dog, Coco. Book One, Dog Gone Girl, is complete and I am nearly done with Book Two, Seven Brides for One Brother.

Check out this Featured Short Story: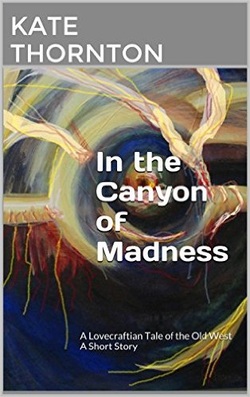 In the Canyon of Madness
A Lovecraftian Tale of the Old West is now available through Amazon.
Bridget O'Connor blows into the dusty, forgotten town of Diablo Canyon, New Mexico with $26,000 and three corpses. But newspaperman David Holister knows there is more to her story than a stagecoach ride gone wrong. An encounter at her mansion on the outskirts of town does not satisfy his curiosity. Instead, it sets in motion a gruesome chain of events, and brings back his nightmares of a past horror in Arkham.
---
And this anthology!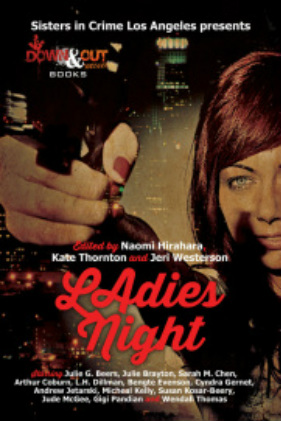 Here's a preview:
"From Valley Girls to Valley of the Dolls, the L.A. Woman has captured our imagination and redefined the fairer sex. CJ Parker is our lifeguard, Lucy Arnaz, our studio executive, Angelyne, our reality star, and the Black Dahlia, our murder victim. L.A. neighborhoods have spawned the Beverly Hills housewife, the Hollywood starlet, the Van Nuys dominatrix, the Santa Monica Surf Betty and the Manson girls, to name a few. LADIES' NIGHT, an anthology by Sisters in Crime Los Angeles, includes stories by Julie G. Beers, Julie Brayton, Sarah M. Chen, Arthur Coburn, L.H. Dillman, Bengte Evenson, Cyndra Gernet, Andrew Jetarski, Micheal Kelly, Susan Kosar-Beery, Jude McGee, Gigi Pandian and Wendall Thomas. The anthology is edited by Naomi Hirahara, Kate Thornton and Jeri Westerson. Award winning L.A. crime novelist Denise Hamilton wrote the introduction."
The Los Angeles Chapter is known for their knockout anthologies, and this one is no exception. From seasoned pros to incredible first timers, the authors represent a real cross section of the Los Angeles writing community. So settle in for a thrill ride through those canyons, beaches and freeways to that ultimate destination - with some of the quirkiest ladies you'll ever meet. Just click on the book cover image above to purchase or preview!